Hi,
the important things at first in english. Maybe there are more people with this problem:
My PC:
- Win 10 Pro 64 Bit + aktuellste Updates
- AMD Ryzen 2700
- AMD RX 580
- 16 GB DDR4 3000 RAM
- Asus Board mit Chipsatz B450
I use voukoder and vegas pro to render my videos. There are no problems during the rendering. But when i use HEVC H.265 via AMD AMF then there is a problem. When i watch the video via VLC player or Media Player Classiv or Windows Media Player an i want to jump to a specific time then the video stop completely and vlc player is not reacting. After 30 to 60 seconds the video play normal at the time where i jumped.
The problem is just via AMD AMF H.265 rendering. H.265 via cpu works normal.
_____________________________________________________________________________________________________________
Hallo,
erstmal vllt. etwas zum System:
- Win 10 Pro 64 Bit + aktuellste Updates
- AMD Ryzen 2700
- AMD RX 580
- 16 GB DDR4 3000 RAM
- Asus Board mit Chipsatz B450
Es gab vor einiger Zeit ja das Problem, dass wenn ich über Magix + Voukoder gerendert habe, es sporadisch zu Tonaussetzern kam.
Nachdem das Plugin aktualisiert wurde konnte ich die Videos auch alle problemlos abspielen.
Nun ist mir aber folgendes aufgefallen:
Ich rendere seit kurzer Zeit Videos (60fps) über "HEVC (AMD AMF) H.265" und skaliere diese auch gleich mit dem zscale auf 1440p 60fps. Funktioniert auch alles wunderbar. GPU wird voll ausgelastet und Video lässt sich auch abspielen. Ich benutze den VLC-Player. Wenn ich jetzt aber in dem Video spulen möchte, bzw. springen möchte, also z. B. auf der Wiedergabeleiste irgendwo hinklicke, dann springt die Wiedergabeleiste auch dahin, allerdings stoppt das Video komplett und es passiert erst einmal eine Minute (habe die Zeit gestoppt) gar nichts. Ich kann den VLC-Player dann auch nicht schließen, bzw. schließt sich das Fenster, aber der Prozess bleibt so lange im Taskmanager offen wie er zum "springen" im Video braucht. Ich kann dann auch kein anderes "normales" Video starten.
Mir ist aufgefallen dass im Taskmanager bei der Grafikkarte der Punkt "Video Decode" in der Zeit in der das Video hängt auf 100 % läuft (s. Anhang).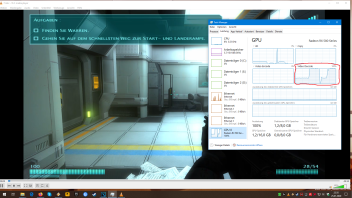 Z. B. das Video im Bild geht ca. 19 Minuten. Vom Anfang zur Mitte zu springen hat 1 Minute gedauert (Zeit habe ich gestoppt). Das Springen vom Anfang bis Sekunde 29 hat indes nur 8 Sekunden gedauert.
Ich dachte erst das liegt evtl. am VLC-Player, aber weder mit dem Windows Media Player, noch mit dem Media Player Classic funktioniert das springen. Dann habe ich das Video mit dem Magix internen HEVC H.265 über meine Grafikkarte rendern lassen. Und dort funktioniert es wie gewohnt. Ich klicke ins Video und sofort läuft das Video an der Stelle weiter.
Jetzt natürlich meine Frage. Hat noch jemand dieses Problem?
Edit: Bei Videos die mit x264 ( über CPU und Grafikkarte) gerendert werden funktioniert es ohne Probleme.