What is this VoukoderManager?
It is a GUI based tool to automatically install Voukoder with all of it's needed components very easily.
Furthermore you have the ability to install updates for Voukoder and it's components.
To get it ready you only need .NET Framework 4.8 installed and start the application.
For more functionality details take a look here.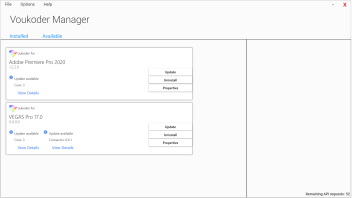 The latest download is available here.
For those of you who are interested in to know which features will be implemented in the future
you can see a Roadmap of the project here.
If you have feature requests or found a bug please report it on the GitHub issues page and NOT on this forum.
Please post general discussions only under this thread and don't open new threads on this forum.
Thank you